Our Vintage Wedding Cars
Buckinghamshire and Berkshire
If you are looking for vintage wedding cars in Buckingham and Berkshire, our pre-war vehicles make a big impression. Whether you are planning a reception in High Wycombe, Maidenhead, Windsor or Beaconsfield, we are perfectly located to provide incredible cars for your big day.
Roesch Talbots
Roesch Talbots were manufactured in London until the Company was sold to the Rootes brothers in the mid 1930s; 1937 being the last year any "proper" Talbots were manufactured. They were superbly built cars, with which their designer, Georges Roesch, intended to rival certain Rolls Royces of the period. Roesch Talbots were also successful in competition, coming third overall at Le Mans for three consecutive years in 1930, 1931 and 1932, amongst other notable achievements.
The cars shown in the photographs are 3-litre Roesch Talbots, manufactured between 1933 and 1934. They are presented in matching black and ivory livery.
Roesch Talbot Drophead Coupé
The drophead coupé (reg no 9957 AP) was manufactured in 1933 and has very pretty bodywork by James Young & Co. This car will accommodate three adult passengers plus the chauffeur provided.
This car can be driven with the roof fully closed, open to half way, or fully down. The wide doors enable easy access to the rear seats. Unlike many pre-war open cars, this car also has wind-up windows.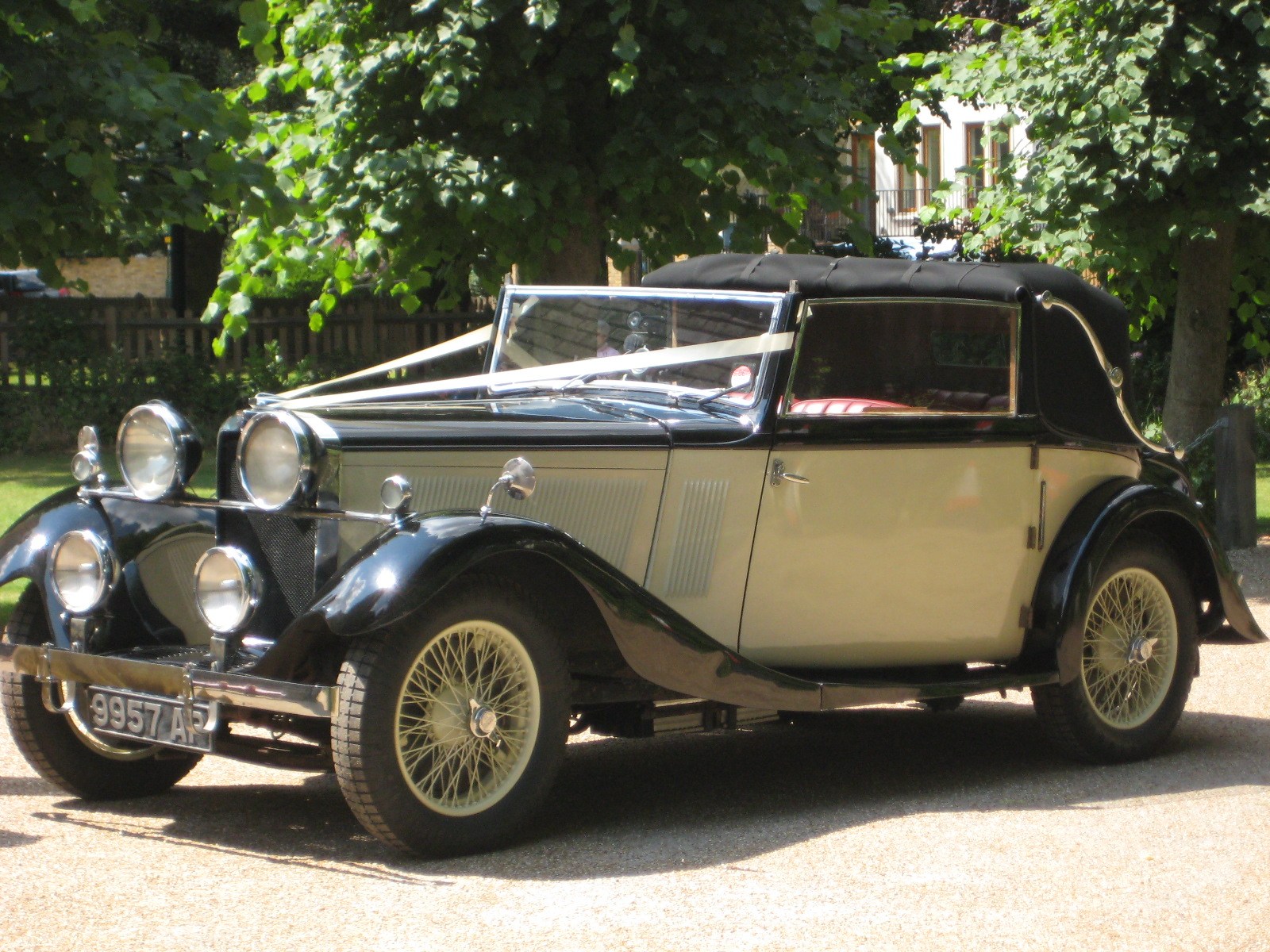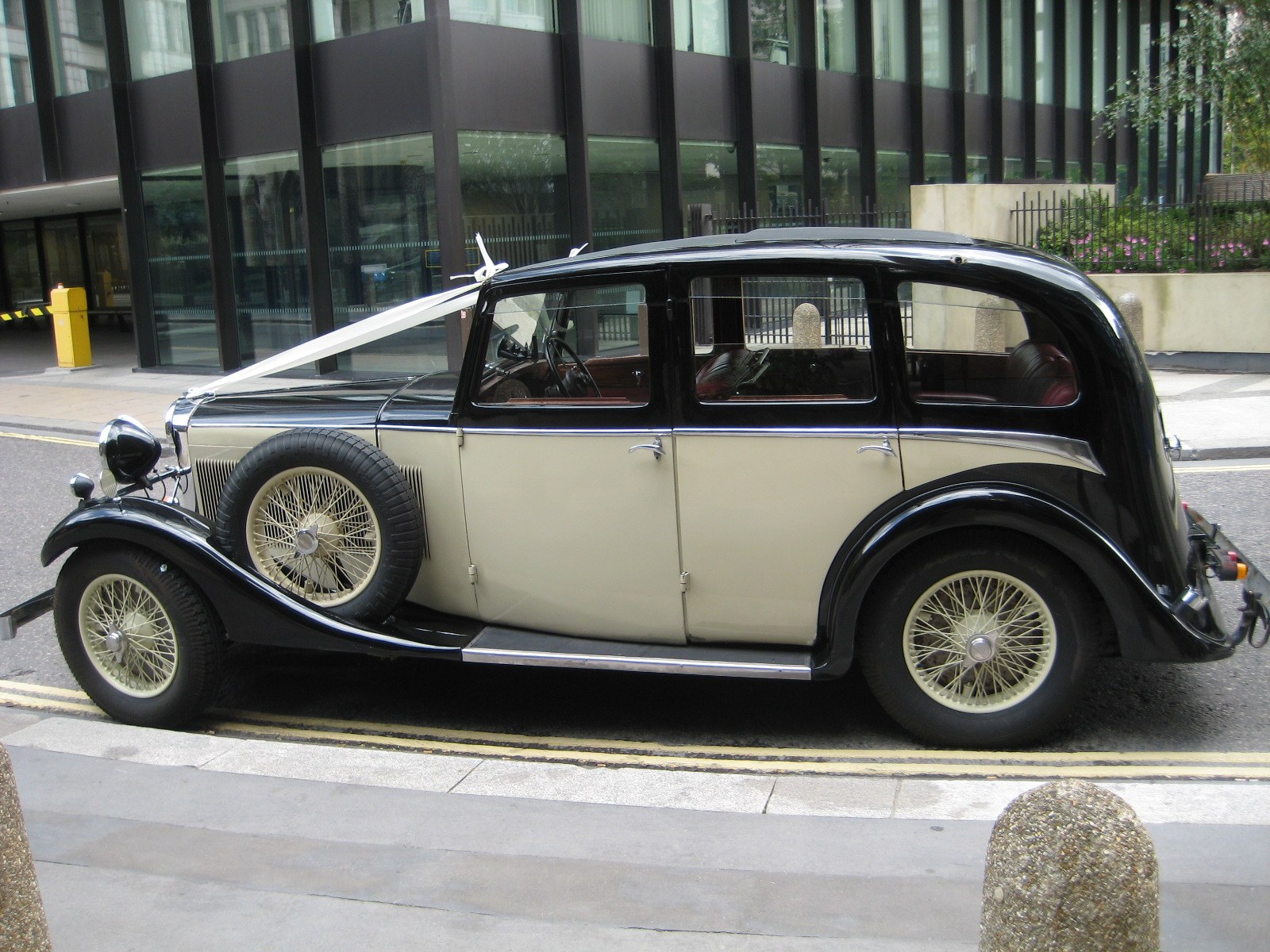 Roesch Talbot Saloon Car
The saloon car (reg no AYK 280), was manufactured in 1934. It has been completely re-upholstered in burgundy-coloured Connolly leather with matching Wilton carpeting to return the car to its original standard of luxury and comfort.
The interior of this car is exceptionally spacious and it is therefore well suited to brides with dresses of above average dimensions or for numerous bridesmaids.
Viewing & Rates
The cars can be viewed at Chalfont St Peter, near Gerrards Cross, Buckinghamshire. Our rates are very competitive and, as far as we know, we are amongst the cheapest available locally for quality, pre-war cars.
Our aim is to provide the individuality and character of a rare car from the 1930s for approximately the same price as a more modern and less charismatic conveyance.
Our standard rates, unchanged for many years are: £295 for either of the cars on its own or £550 for both cars at the same wedding.
The second car is ideal for bridesmaids or family members. There are generally no extras for mileage or waiting time.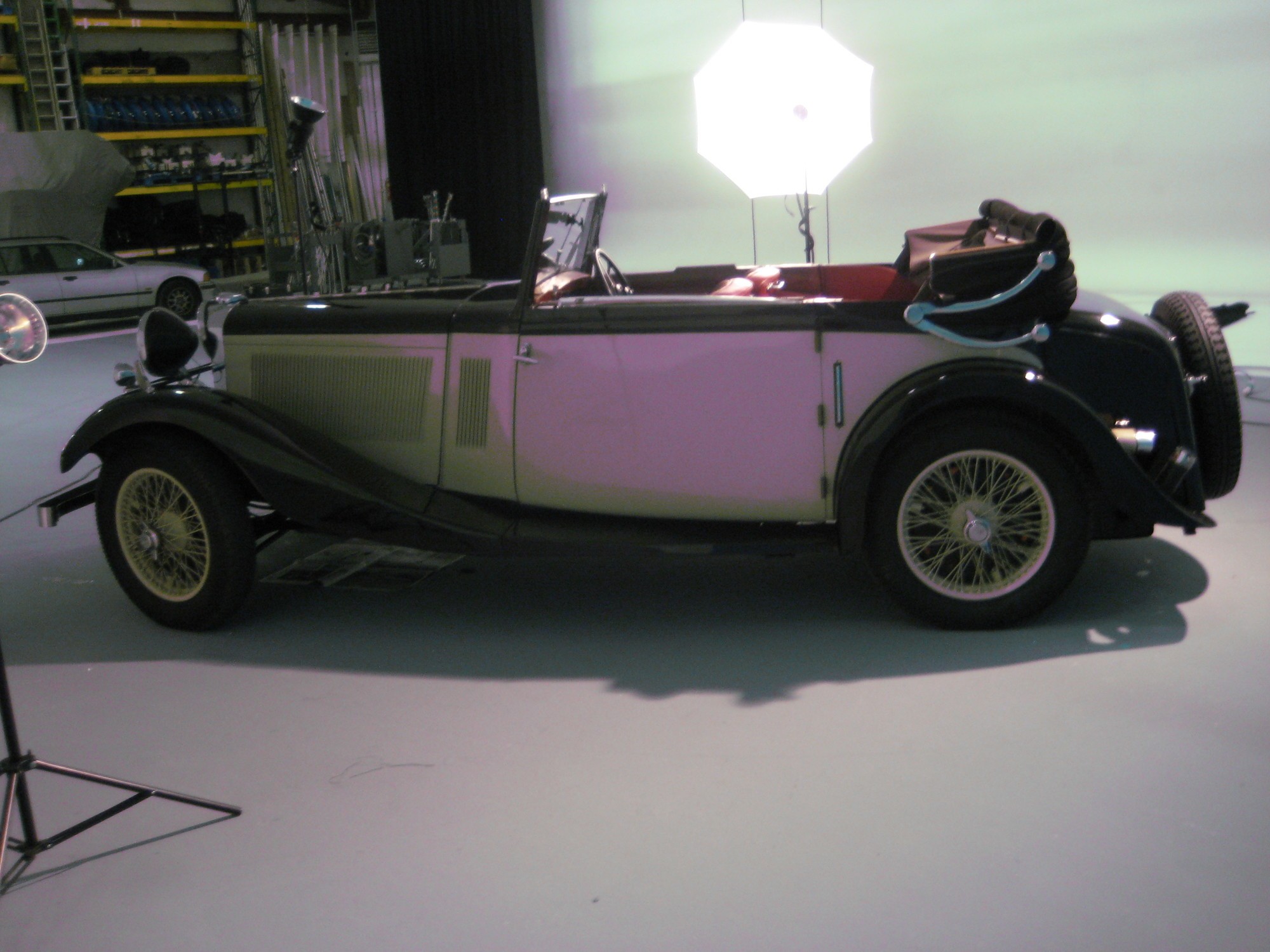 Reception to Honeymoon Hotel Service
Special rates can be arranged for the car to return to the reception venue, at the end of the reception, to take the bride and groom to the airport or honeymoon hotel.
Quotations, which are firm, are based upon an estimate of time to be taken charged at £25 per hour plus 50p per mile, with a minimum charge of £90. The cars have a good cruising speed so distance is no object.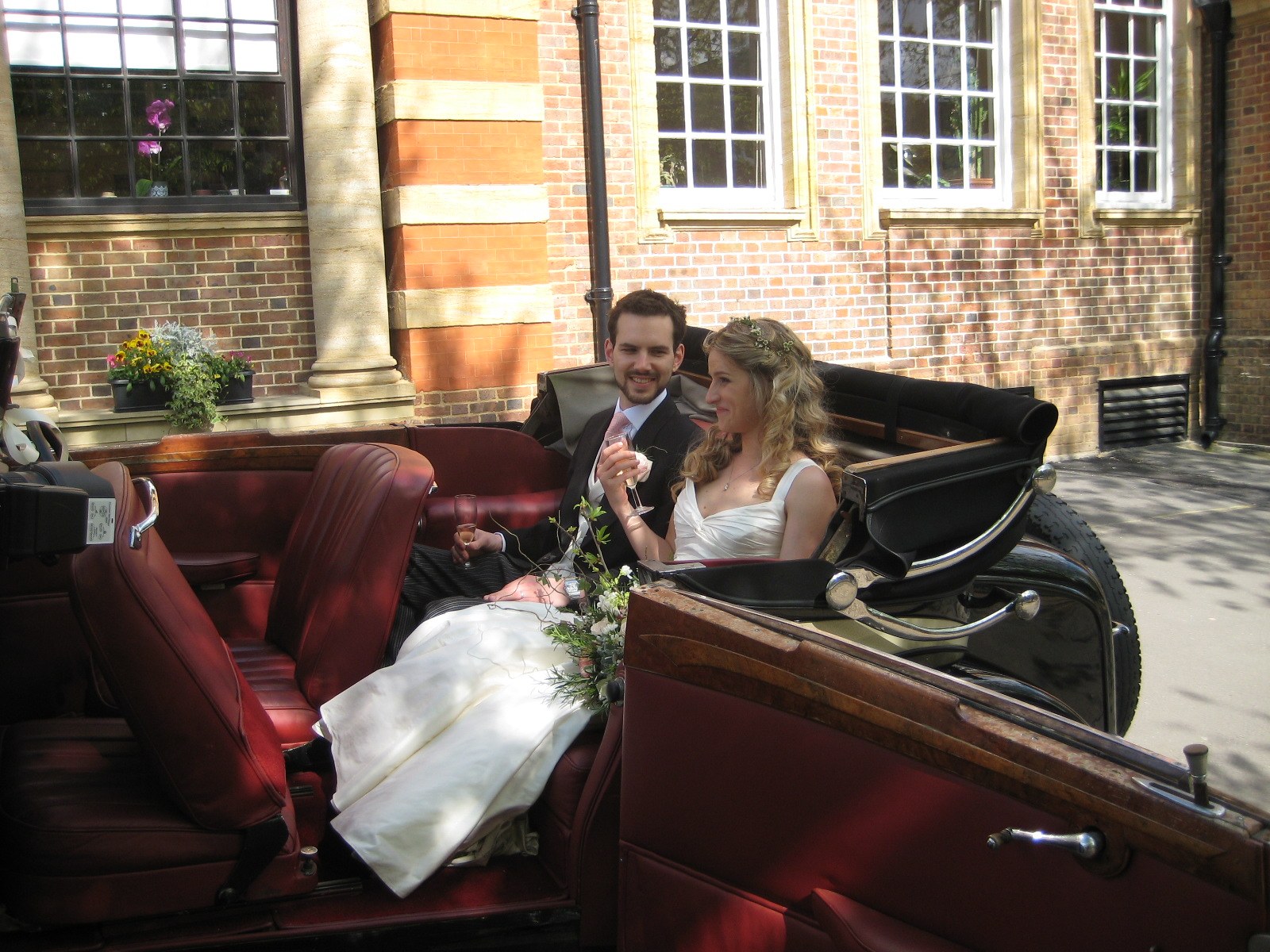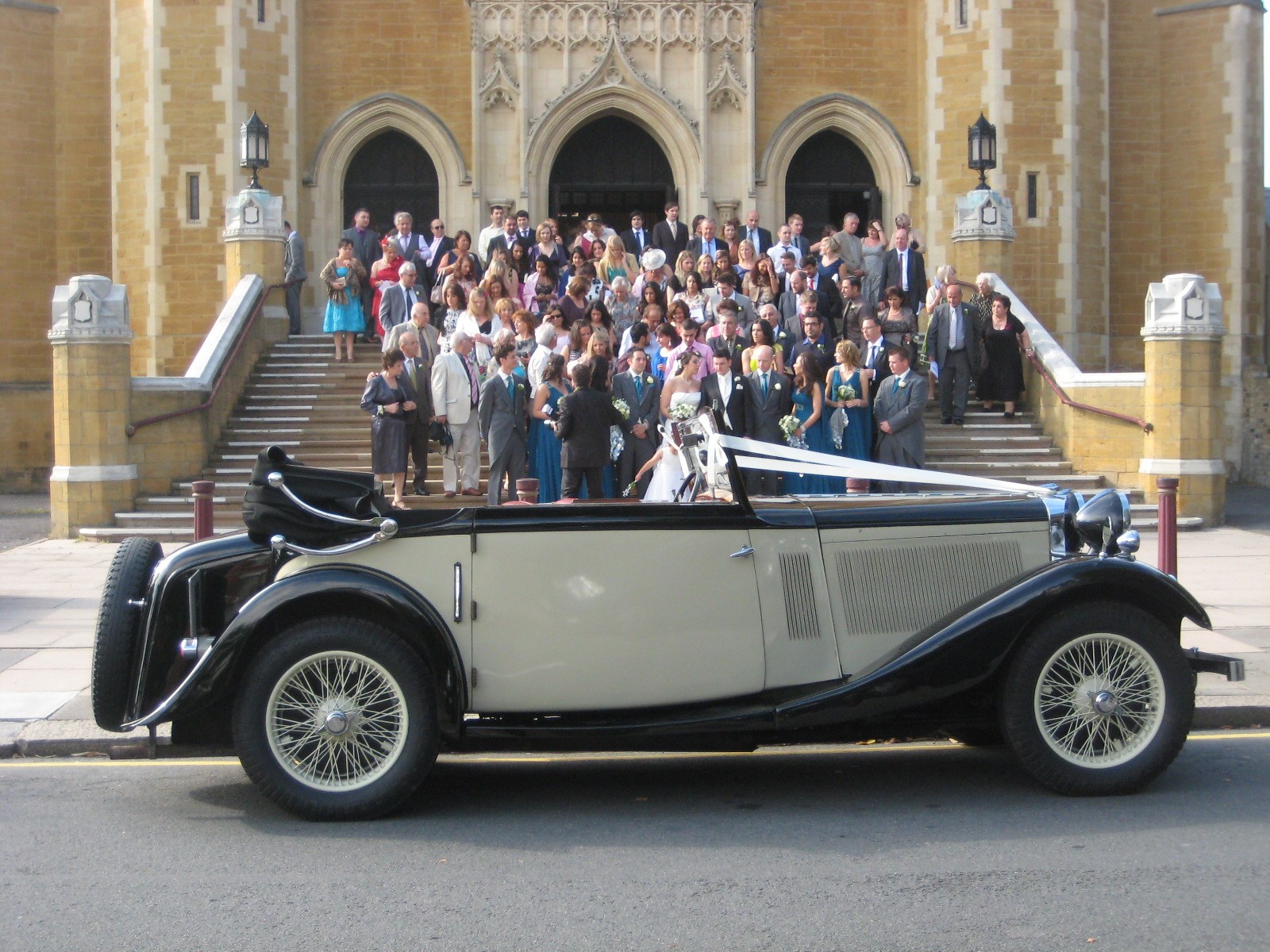 Buckinghamshire Vintage and Pre War Wedding Cars
We offer a wonderful selection of vintage, and pre-war cars and chauffeur for luxury wedding car hire in the Buckinghamshire area.
We want to help make your special event an amazing experience. We have provided wedding transport for many happy couples bespoke to individual requirements.
As a locally-based Buckinghamshire business, we are the first choice for prestigious wedding transport. Our wedding cars create the perfect entrance for the bride and her bridesmaids as they arrive at the reception and ceremony.
It is fitting that Buckinghamshire offers a wealth of historic buildings and beautiful countryside for the backdrop to your big day.
Located just outside of London, our office in Chalfont St Peter is surrounded by popular wedding venues throughout High Wycombe, Milton Keynes, Maidenhead, Windsor, Beaconsfield, Aylesbury, Marlow and Amersham.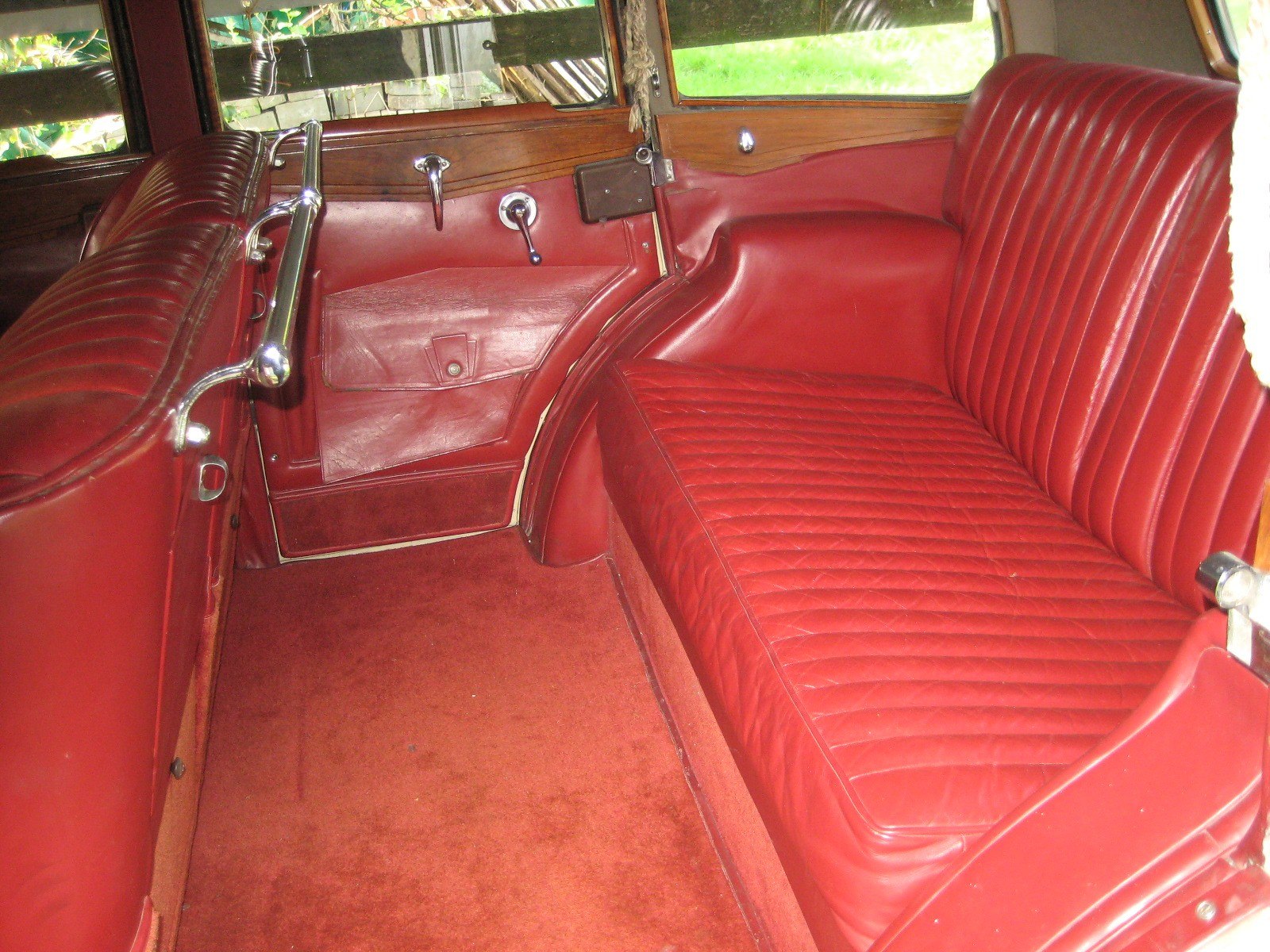 Whatever your budget, you can discuss your plans with us to make your wedding day transport extra special.
You can hire one of our vintage cars for the bride and groom travel between the ceremony and reception to offer a luxurious start to your new life together.
Another option is to take advantage of both our Roesch Talbots to transport the bridal party and family members with additional stops for photoshoots.
Why choose a vintage classic car for your wedding?
For many weddings, the ceremony is held in a separate location than the reception. This means that you need to arrange transportation for the Bride, Groom, Bridesmaids, the grooms' entourage and important family members. Getting reliable transport is essential to ensure that everyone important is at the right place at the right time.
You could always choose a regular taxi to provide transportation between the ceremony ond reception. While this form of transport will be adequate to get everyone to the destination, there will be no Wow factor when the cars arrive.
Choosing chauffeur-driven vintage cars for your wedding transportation always creates a buzz amongst guests and onlookers. When it is your big day, you want to use any opportunity to make a big impression.
Our pre-war classic cars are the perfect wedding car as they never fail to create a big impression. When our vintage cars turn up to the ceremony, your friends and family will be pleasantly surprised. You can depart from the ceremony in style and opulence while creating a lasting memory for all of your guests.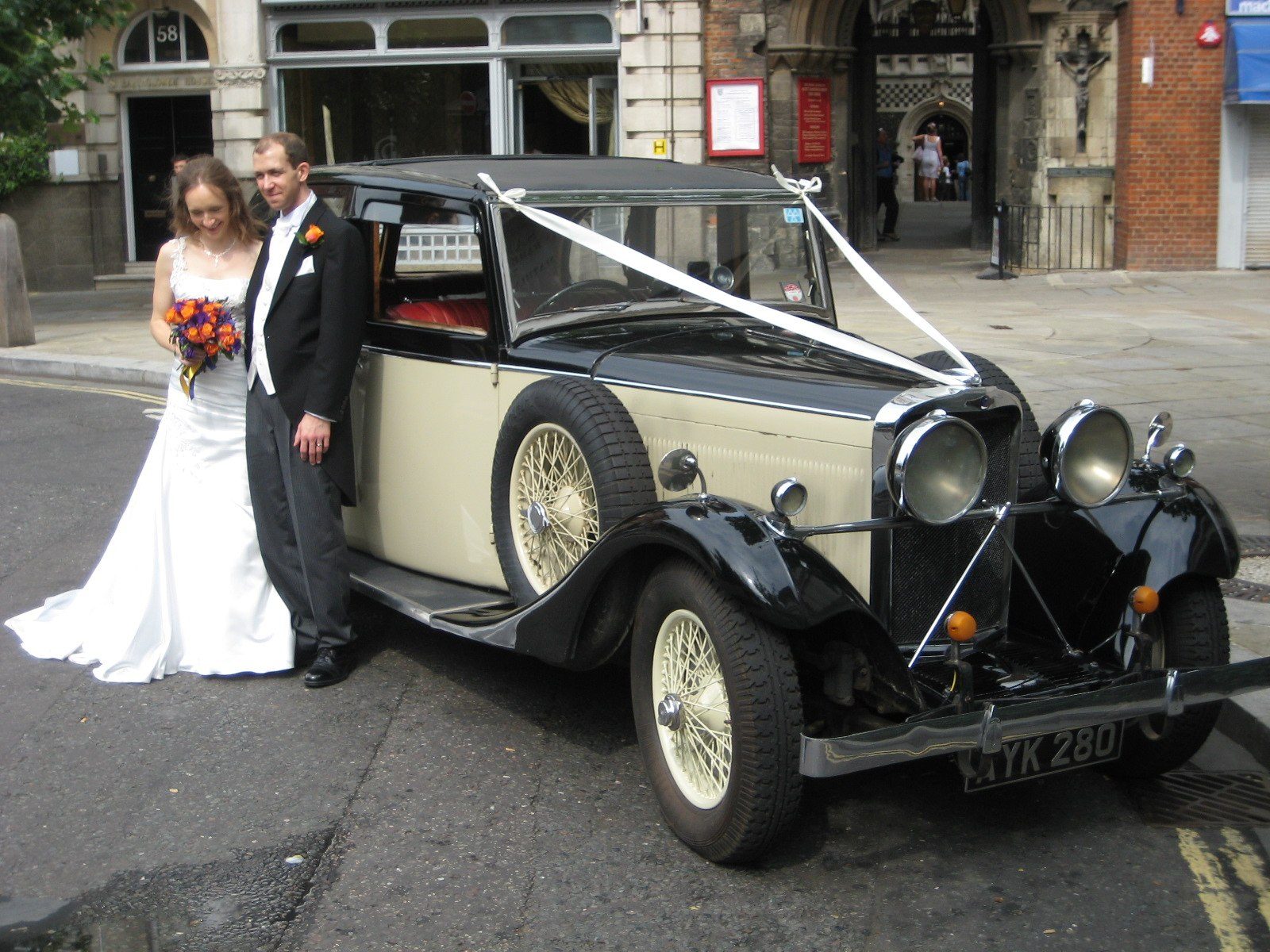 Nothing looks more impressive when looking back at your wedding photos than to see the bride and groop departing in one of these stylish vehicles. Classic cars make wonderful backdrops to photographs, and everyone will be drawn to them to get their photos taken alongside these beautiful cars.
Make a big impression on your wedding day with our vintage car hire
Travel in luxury on your wedding day in one of these stylish pre-war Roesch Talbots. These head-turning vehicles will provide the bride with her grand entrance while also getting plenty of attention along the way.
When you get to look back through your wedding photos, do you want to remember travelling in an average looking car on the most special day in your life?
Or do you want to remember how amazing you looked travelling in a stunning vintage car which offers a romantic, timeless look to Buckinghamshire weddings?
If you want to experience our range of vintage wedding cars in Buckinghamshire, Berkshire and the surrounding counties, contact us today. We will offer a professional chauffeur driven experience to add style to your ceremony.
Call our helpful team today to discuss your requirements on 01494 870 226 or complete the form below with your details.